New quote bubble templates
New
We've added 4 more premium quote bubble templates: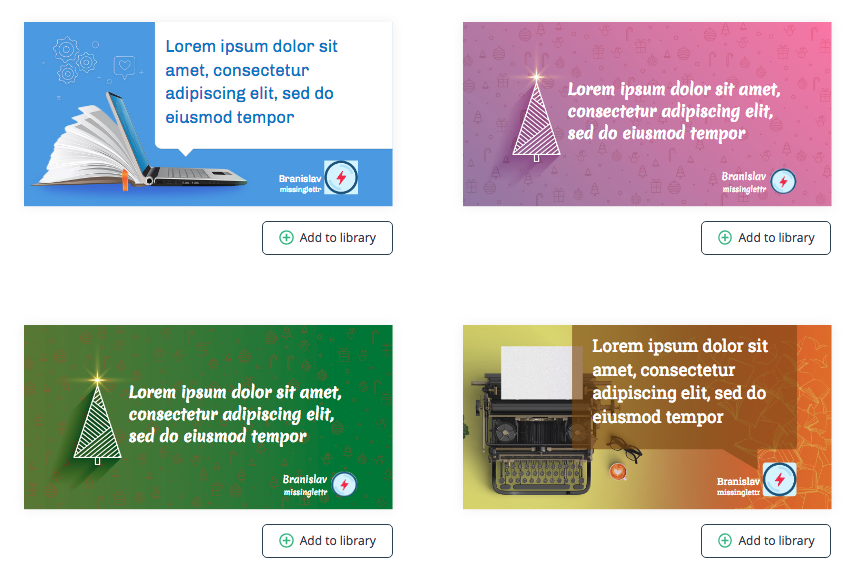 Manual posts update, quote bubble support
Improvement
One off posts sent from the calendar got a new UI, as well as a possibility to create custom, one-off quote bubbles from any of the templates available in your library: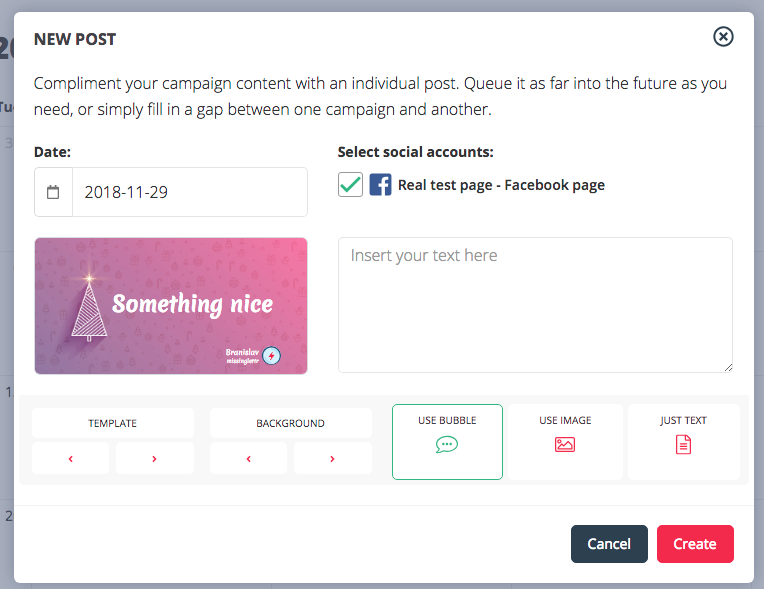 Self-Help widget
New
We've replaced the default chat bubble with a new widget powered by HelpShelf.co
You can access it by clicking on the help bubble:
It allows you to directly search our entire help article library from any page, or contact support as you normally would.
Content Selection is now optional
New
Content Selection became a part of Content Review and is now entirely optional.
See here for more info: Content Review HelpDoc
Drag&drop posts to reschedule them in the calendar.
Fix
We just released a fix which restores the ability to simply drag&drop posts in the calendar in order to reschedule them.
The issue was connected with date format in specific browsers. If a similar issue occurs in the future, our developers will be notified momentarily and will make sure to release a fix within 24 hours.
New Step: Content Selection
New
Any campaign created from this moment on will come with a brand new step added to it.
After choosing your hashtags, you will see the new step. It allows you to see all the content we have extracted from your blog post and choose the quotes you wish to see in Content Review.
Find out more about the new step here: Content Selection HelpDoc
Quote bubble templates - border lines
New
When editing quote bubble templates, we have introduced visible border lines to avoid any content being cut-off within quote bubbles:
To ensure no cut-offs happen to your quote bubble image - please make sure that your quote bubble templates are within these lines:
Schedule manager
New
We are happy to announce the launch of the schedule manager. This update enables more control over the campaign duration, number of posts and post distribution.
A campaign can now be as long as 730 days(2 years) and have up to 50 posts for each social profile connected. Shorter campaigns are possible as well.
For more info, see our helpdoc on the topic: http://help.missinglettr.com/getting-started/schedule-templates
Download images from a campaign
New
If you want to use images from your Missinglettr campaign for other purposes, you can now download them.
You'll get a .zip folder with .png image files you can use.
This feature is only available for campaigns that are in the "Active" tab.
No published changelogs yet.
Surely Missinglettr will start publishing changelogs very soon.
Check out our other public changelogs: Buffer, Mention, Respond by Buffer, JSFiddle, Olark, Droplr, Piwik Pro, Prott, Ustream, ViralSweep, StartupThreads, Userlike, Unixstickers, Survicate, Envoy, Gmelius, CodeTree